Prizes
Prices for the first 3 athletes of each competition classes.
Prices for the first athlete for each Open classes
All W/M10 and W/M12 runners will receive a gift, whatever their classification.
No ranking prizes will be awarded to participants in the Ori-Family activity.
Regulation
The 4th edition of the Leiria City Race is governed by the Portugal City Race Regulation and the CTRE Regulation, which can be consulted at this adress:
Time Limit
The race will have a maximum time of 2 hours (two hours) to be completed.
In case you do not finish your race, the athletes will have to go to the finish line to download their Electronic Card. This procedure aims to prevent the organization from starting field searches to locate participants who have dropped out and are already in the Areno and have returned to their homes.
Sport insurance
– Athletes affiliated in the Portuguese Orienteering Federation (FPO) are covered by FPO
Insurance
– National and Portuguese resident non-affiliated athletes are covered by FPO insurance.
– Foreign and/or non-resident athletes are not covered by any insurance. They should provide for
their own security and insurance
Maps
There will be no map collection. Fair play is appealed to all athletes present.
Supplementary Control descriptions
Additional control descriptions will be made available, to be defined on the website for printing by
the participants or already printed next to the maps.
However, the control descriptions will be printed on the map.
Baths
The availability of this service is dependent on the pandemic situation at the time of the event.
In the week before the race, the availability of this service will be announced.
Bibs
Bibs are not mandatory
Electronic Control System
SPORTident (SI Card) will be the electronic control system used in this event. Also the contactless mode will be active (SI-ActiveCard – SIAC).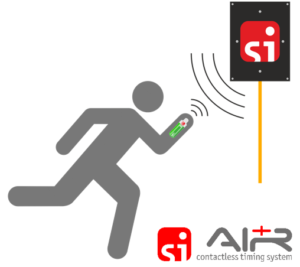 One SI Card will be assigned to each athlete except in the Open classes when the participation is done in pairs or groups. In this case only one SI card will be attributed to the pair or group.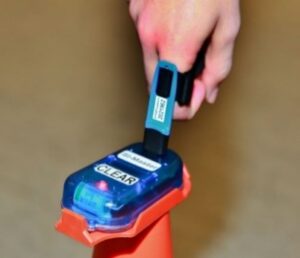 The SI Card is a small device that records the time spent at checkpoints. When inserted in the box, it will emit a sound and each athlete must wait the necessary time to obtain confirmation (beep and/or light.
In case of failure of the SPORTident system, the athlete must use the pliers presente near each control and punch it on the map, in zones R1, R2 and R3, recording the passage at the control point.

The athletes must start with the SI Card indicated in the start list, otherwise the consequences of participation with SI Card that has not been assigned by the organization are their responsability.
Safety
Most of the competition takes place in urban áreas with car trafic, so special care is recommended when crossing public roads.
In case of an accident during the routes use the Safety Coordinator's emergency contact which is printed on the map.